Scenic World Blue Mountains Australia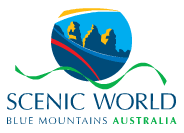 Float on air in the recently unveiled Skyway with its world first Electro-Sceni Glass Floor. Ride the steepest incline Railway in the world down to a lush and hidden valley. Stroll along the Walkway through towering Jurassic rainforest, and refresh both your spirit and soul! Quietly glide out of the valley aboard the Cableway, taking in the breathtaking panorama of the stunning World Heritage Listed Blue Mountains National Park. At Scenic World Blue Mountains enjoy 360° views, taking in the famous Three Sisters, the magnificent Katoomba Falls, Mt Solitary and the near endless vista of the Jamison Valley.
Scenic World Blue Mountains Australia
.

Parques en España: Andalucía, Aragón, Asturias, Cantabria, Castilla la Mancha, Castilla León, Cataluña, Extremadura, Galicia, Islas Baleares, Islas Canarias, La Rioja, Madrid, Murcia, Navarra, País Vasco, Valencia.
Parques del Mundo: América, América Central, América del Norte, América del Sur, África, Canadá, Oceanía, El Caribe, Asia, Europa.
Industrial y profesional: Asociaciones de atracciones, Asociaciones faunísticas Atracciones de feria, Accesorios Diseño e instalación, Fabricación y venta de atracciones, Fabricación y venta parques infantiles, Fabricación y venta parques acuáticos, Gestión de parques, Artistas, Managers.
Guías, fans, y webs: Clubs de fans, Webs, blogs y fan sites, Juegos de Roller Coasters, Webs extrajeras, Maquetas de Roller Coasters.
---
---
Toda la información es de carácter informativo y no comercial. La información ofrecida en Achus! proviene de los comunicados emitidos por las empresas, y colaboradores por lo que en ningún caso Achus! es responsable de la veracidad y exactitud de dichos datos. Todos los logos e imágenes de empresas aquí señaladas son propiedad de sus dueños.
---